Winter Wonderland 2020 was help on February 27th, 2020.
Were you there? Did you enjoy? Did you miss it and need to review how the evening went?
Well then good news for you we have the details that you need below.
Glitz and Glamour. Silver and Shine. Winter Wonderland 2020 had it all.
The Reno-Tahoe community with over 550 in attendance came to play, helping to raise over $35,000 for the Nevada Diabetes Association. Every dollar will stay right here in Reno-Tahoe to support diabetes programs and services in the community. The
Nevada Diabetes Association proudly helped over 14,000 people in our community in 2019 and is shaping up to help many more in 2020
With so many of Reno-Tahoes finest establishments in attendance the judging was tough and the competition was fierce.
The following Vendors took home awards (in order of list/photo appearance) –
Best Savory Bite: Rue Bourbon
Best Sweet Bite: Delicious Designs
Best Craft Cocktail: Bistro Napa/ Atlantis
Best Experience: Verdi Distillery
Best Décor: Rue Bourbon
Best Spirit: Batch
Best Dressed: "Patty"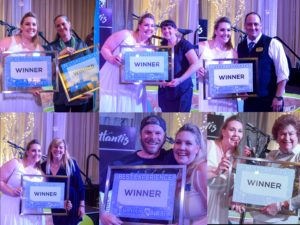 This year the Nevada Diabetes Association also gave out the Inaugural Diabetes Community Impact Award for all those to recognize in attendance. This award highlights a community member who has helped shape the landscape of diabetes in our local community. This person was voted on by the people of the Reno-Tahoe community.
The winner was Mike Smith from Reno Vulcanizing.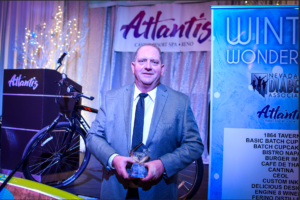 We hope everyone will join us next year in 2021 as well as all other Nevada Diabetes Association Events in 2020. Next up in our local community is June 14th – Driving Fore Diabetes Charity Golf Tournament
If you would like to see the TapSnap photos from this event click Here
This years Winter Wonderland 2020 Event Sponsors and Vendors Included:
Abbi Agency, Atlantis, Blakes Floral Designs, Basic Batch Cupcakes, Batch, Bistro Napa, BurgerIM,
Cafe de Thai, Cantina Los Tres Hombres, Ceol, Custom Ink, Delicious Designs Delta Gamm- Eta
Iota, Duncan Golf Management, Engine 8 Winery, Ferino Distillery Greater Nevada Credit Union,
Grimaldi's Pizzeria, Holey Schmidt Donuts, India Kabob and Curry, Kimmie Candy, Manzanita
Glow, Mt. Rose Drinks, Northern Nevada HOPES, Nomnivore Food Truck, Outlets at Legends,
Pangolin Café, Pizzava, Red Carpet Designs, Reno Improv, Renown, Reno Vulcanizing, RGJ,
Rocket Fizz, Rue Bourbon, Scheels, Scoopers, South Creek Pizza, Tahoe Blue, Tap Snap, The Long
Drink, The Mug Shot Coffee, Verdi Distillery, Yelp Reno, , Zeppelin, 1864 Tavern
Judges for Awards (excluding Community Impact Award) :
Johnathan L. Wright, Food and Drink Editor for RGJ, Cheree Boteler, Owner/Curator @HungryinReno,      Steve Shroeder, Reno Street Food Truck Friday, Ashley Brune, Ana Casas, Gibbs from the Abbi Agency and Leslie Masterpool from Great Nevada Credit Union.