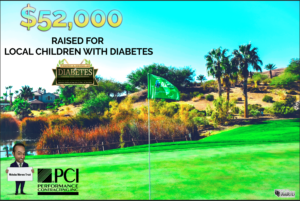 Taking A Swing At Diabetes 2020 has happened and we could not ask for a better day with a staggering $52,000 raised to continue to our programs and services with the goal of helping children and people affected by diabetes.
The day started off bright and early as registration kicked off at 7:30am and a scheduled tee off time of 8:30am.. and guess what.. for the first time in 4 years we hit it !!! There was no frost delay .
With adhering to course and state guidelines we had a field of 108 golfers who played a tremendous round on Sunday November 15th one day just past World Diabetes Awareness Day ( watch the video here).
Thank you to all our sponsors, golfers, volunteers and everyone else involved in this annual charity golf tournament. We hope you join us again in 2021 .
Check out photos from the event below.