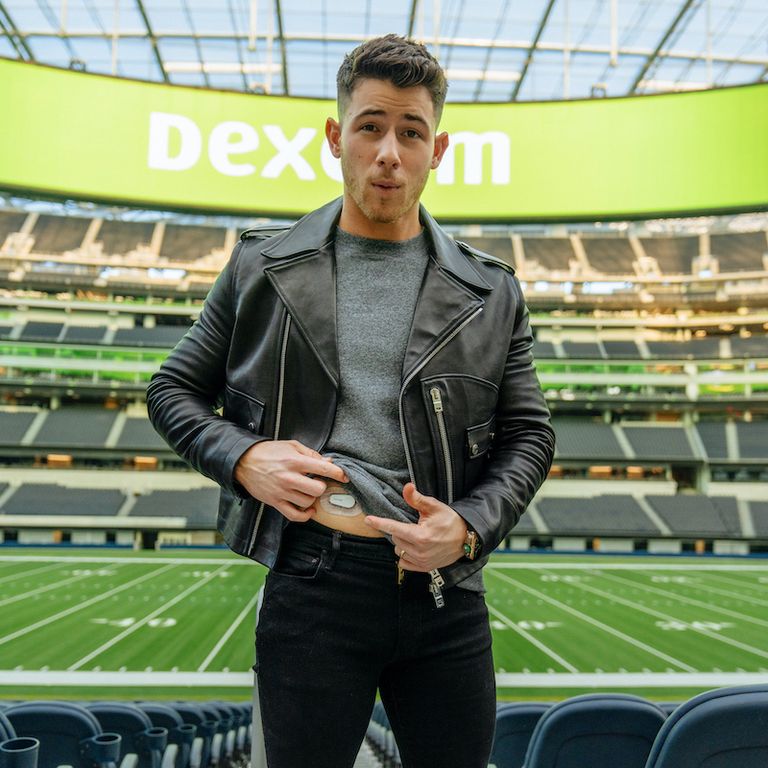 Nick Jonas shows off his Dexcom G6, a life-saving device for Type 1 diabetics who can afford it. COURTESY OF DEXCOM
Dexcom makes a device widely used by those living day to day with diabetes. While no one can argue that bringing awareness to this disease is important. Then why are some people living with diabetes upset about a commercial that was released shortly after the end of the first quarter in the Super Bowl?
In the commercial pop star and T1D Nick Jonas endorses a product called the Dexcom G6. A  small, wearable Continuous Glucose Monitoring system that sends your glucose numbers to a smart device or receiver every 5 minutes. It's easy to wear and easy to use. For those living with diabetes, this is a well known device. For those relatively new to the diabetes world or those who have no knowledge at all, the Dexcom CGM is a miraculous device. A young star and advocate like Nick Jonas pulls Type 1 certainly has the ability to bring diabetes into the spotlight and diminishes stigmas surrounding the disease. Representation matters, and so does brand awareness for a product that can keep its user alive daily.
So why does this commercial leave a sour taste for some in the Diabetes community? When the company unveiled the commercial last week ahead of the Super Bowl, a number of people with diabetes spoke up across various social platforms. The main complaint: this live-saving device is too expensive for most living with diabetes, so why are they promoting an ad for the device on the nations biggest stage. The Dexcom G6 averages a retail price of $423.98 for a month's supply, according to GoodRx. People with diabetes are left wondering how Dexcom can spend so much money on one night of advertising while millions of them still can't afford the potentially life-saving product.
For perspective, on average a 30-second commercial spot in Super Bowl LV costs $5.5 million, and that just covers the time. This does not include payment for talent, time etc.. that all goes in to the production of videos.  People are wondering if Dexcom, could have used these funds for something other than awareness.. when a world of people living with diabetes are rationing insulin and most cant afford supplies like CGMs or pumps.
In full disclosure, last year Dexcom introduced a patient assistance program for U.S. patients who have lost their health insurance coverage as a result of the impact of the COVID-19 pandemic. While not a solution to the high cost of this disease, it is a helpful hand to those in need.
All arguments aside wether you enjoyed the ad or not, no one can dispute the fact that raising awareness for diabetes is a priority. The more the conversation grows, the more people can hope to expand into affordable insulin and diabetes supplies. With premiering an advertisement and talking about diabetes for the first time on the nations largest stage, Dexcom's ad worked.. it got the conversation going and brought attention to the world of diabetes.
What do you think? Was the Ad tasteful or were you turned off by it?
Let us know in the comments below
You can rewatch the Super Bowl run Ad right here