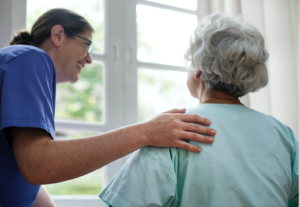 Diabetes is a disease that causes daily monitoring and maintenance for hundreds of thousands of seniors. More than one in ten people in the United States lives with diabetes, while one in every three Medicare beneficiaries has it.
Medicare beneficiaries make up nearly 45% of the country's diabetic population. According to the Kaiser Family Foundation, out-of-pocket insulin costs among Medicare beneficiaries increased by over 300% between 2007 and 2016. This increase is due to both a rising number of insulin users as well as rising retail costs of the life-saving drug.
As of 2021, the Centers for Medicare and Medicaid Services (CMS) is putting a stop to high monthly copays for insulin. Medicare's beneficiaries will now be able to enjoy a much lower maximum monthly copay throughout the year, bringing the average annual spending on insulin to an estimated $229.
What is the Part D Senior Savings Model?
The Part D Senior Savings Model will cap insulin prescriptions at a $35 monthly copay for enrollees. Medicare beneficiaries can start applying for Part D Senior Savings Model plans as early as October 15, 2020. This new Model will come in the form of both standalone Part D plans and Medicare Advantage plans. More than 1,700 plans have already entered the program.
As Part D plan sponsors join the Part D Senior Savings Model, they agree to offer at least one pen and one vial option of each covered insulin. However, participating plans aren't required to cover every type of insulin, just like they aren't expected to right now. While the participating drug manufacturers must allow all insulin products to be included in the Model, the Part D plans can choose which insulins they include on their formulary.
The maximum $35 copay is true throughout all stages of the Part D plan. For example, instead of paying one copay during the initial coverage stage, and a different copay during the coverage gap, the beneficiary will pay no more than $35 regardless of the stage. Plan sponsors can choose to be more competitive by offering a lower monthly copay – $35 is just the allowed maximum.
How this affects Medicare Part B insulin
While most beneficiaries purchase most of their medications under their Part D plan, some beneficiaries look to Medicare Part B for drug coverage. Medicare Part B covers medications that are administered to beneficiaries by a medical professional and medications administered by a piece of durable medical equipment. For example, osteoporosis drugs administered in the doctor's office are subject to Part B coverage. Also, insulin delivered by an infusion pump is subject to Part B coverage.
Insulin covered under Part B will not be affected by the Part D Senior Savings Model. Medicare beneficiaries who receive their insulin through Part B will continue to pay their 20% Part B coinsurance unless they have a Medigap plan, which covers that expense.
How to enroll in a Part D Senior Savings Model plan
This September, CMS plans to announce which plans are participating in the Part D Senior Savings Model for 2021. By October 15th, the beginning of the Annual Election Period, Medicare beneficiaries will be able to enroll in one of the Model plans available in their zip code. CMS expects Model plans to be available in all 50 states.
Medicare beneficiaries have until December 7th, the end of the Annual Election Period, to enroll in a Model plan. However, according to CMS, nearly 60% of all Part D enrollees are currently enrolled in a plan that will participate in the Part D Senior Savings Model in 2021. Once enrolled, the plan will take effect on January 1, 2021.
Medicare beneficiaries can use the Medicare Plan Finder Tool online to compare both non-Model and Model plans to find the most cost-effective option. CMS will add a filter feature to the tool that enables the user to see Model plans first.
Insulin-dependent Medicare beneficiaries should try to find a Model plan that covers their necessary insulins as well as most, if not all, their other prescription drugs. If there are a few to choose from, they should compare the ones with the most cost-effective premiums and estimated out-of-pocket drug costs for 2021.
Written by : Danielle Kunkle Roberts  https://daniellekroberts.com