Northern Nevada Injection Connection 
Its time for round 3 of  "Night At The Museum".
Come join the NDA as we stay the night in a museum just like Ben Stiller except you'll be surrounded by all your other diabetic buddies instead of cowboy Owen Wilson
Ages: 12-17 + a friend of the same age.
When: Saturday December 21st – December 22nd 
Where : Terry Lee Wells Discovery Museum 
Time: 5:30pm(Saturday) – 8:30am( Sunday)
Price : $15
Register/Questions : Tara@diabetesnv.org + 775 -856 -3839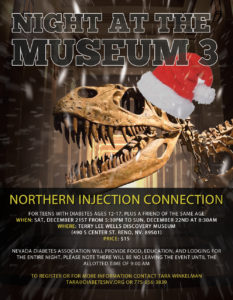 Get mobile updates on this event from the NDA – text "NVIC" to (775) 451-3161.  Its that simple.