Camp Buck 
The almighty holy grail of diabetes camps the Nevada California Diabetes Association has to offer.
Camp Buck is the perfect camp for families that want to give their child an all access pass to what diabetes camps have and should offer including back not limited to top quality diabetes education, friendships with life long bonds and activities all week long.
Located on the beautiful shores of Lake Tahoe with private beach access. You could not get a better camp experience even if you tried.
Campers will engage in countless activities throughout the week leaving them never wanting to leave and waiting to come back to any and all camp programs. All children will be under the supervision of seasoned counselor staff all living with diabetes first hand or years of experience around the disease to ensure safety at all times.
A full team of Drs, Nurses and RDs will be leading the charge in managing your child's diabetes throughout the week with 24hr care.
FAQ: "What about my child who lives in Las Vegas?"  GREAT QUESTION ! All children located in the Southern Nv area have the option to be flown up to Camp Buck. All children are accompanied by specifically assigned counselors just to your child and a full medical team. Roughly around 80+ people are flown up from Las Vegas all on the same flight
Date: July 26th – August 1st.
Age: 7-14
C.I.T Leadership Program Age : 15-17
Price: $699 or $899 with transportation from Las Vegas,Nv
Assistance: Payment plans and scholarships are available.  Click Here
Register: Register online at Campviews. Just Click Here
Questions : Contact our Camp Director Nate Gibson at 775-856-3839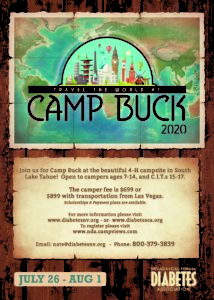 Still not sold? Check out camp videos on our YouTube page. Just Click Here