DCAF – Diabetes in Children and Families
Diabetic Children and Family Support Group and Reno Family Support Group-  are  special and supportive environment for parents and children to learn about diabetes management. Features include: guest speakers, youth activities, special events and parties. These events take place the first Tuesday (LV) and the 2nd Wednesday of the month (in Reno). DCAF Connections ha helped ease the pain and frustration of newly diagnosed families. This group has created a forum for those affect by diabetes to come and share thoughts, ideas and ease suffering.
Las Vegas meets every month on the 1st Tuesday at: Children's Discovery Museum, 360 Promenade Place, Las Vegas, NV
89106 6pm.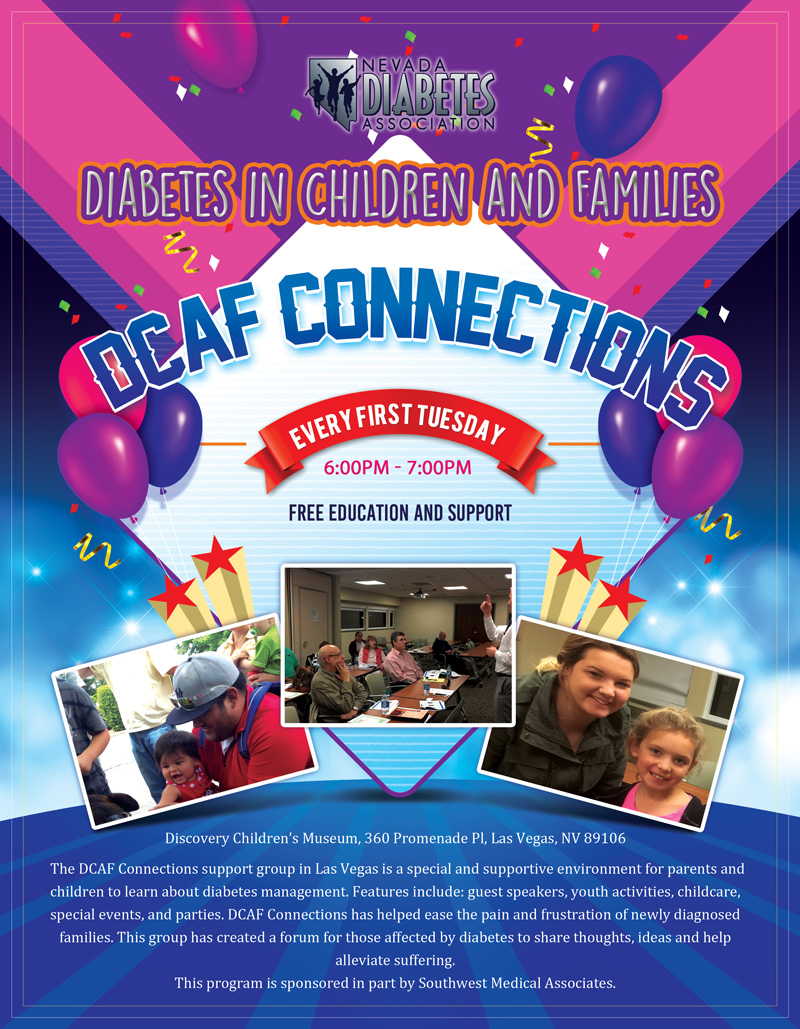 Terry Lee Wells Reno Family Support
The Terry Lee Wells Family Support Group in Reno Nevada is a special and supportive environment for parents, caregivers, and children to learn about diabetes management. Some features include: guest speakers, youth admission into the Nevada Discovery Museum, activities, special events, and parties. Family support helps ease the pain and frustration of newly diagnosed families and helps aid in continuing education for those with established diabetes . This group has created a forum for those affected by diabetes to share thoughts, ideas, and alleviate suffering.
Reno Family Support meets every month on the 2nd Wednesday at: The Nevada Discovery Museum, 490 S. Center Street, Reno, NV 89502  –  6:30 pm.
Injection Connection – Overview

Injection Connection events are teen specific gatherings for teens living with diabetes and their non-diabetic friends. IC events include a night of fun (sports events, recreational activities, etc) and education to help them with issues they face with diabetes at their age. Thanks to our wonderful diabetes educators we offer some amazing education sessions with topics that include How to deal with issues with a school nurse, the different pharmaceutical companies and products available, how to best protect yourself in the emergency room, and with the non-diabetic teens, we had an opportunity to teach them how to be a great support system for their friend or family member. At the events, the campers participated in numerous activities such as bowling, 9-square, movies, games within the dinosaur exhibit and much more. The teen years are the hardest and camp helps the diabetic teens get through it but unfortunately camp is only a few times a year. These Injection Connection  programs are geared to help bridge the gap in-between camps and continue to help these teens with diabetes succeed and maintain a healthy lifestyle all year long. Allowing the teens to bring a non-diabetic friend to these events gives them the opportunity to educate and build a greater support system for themselves outside of the camp community.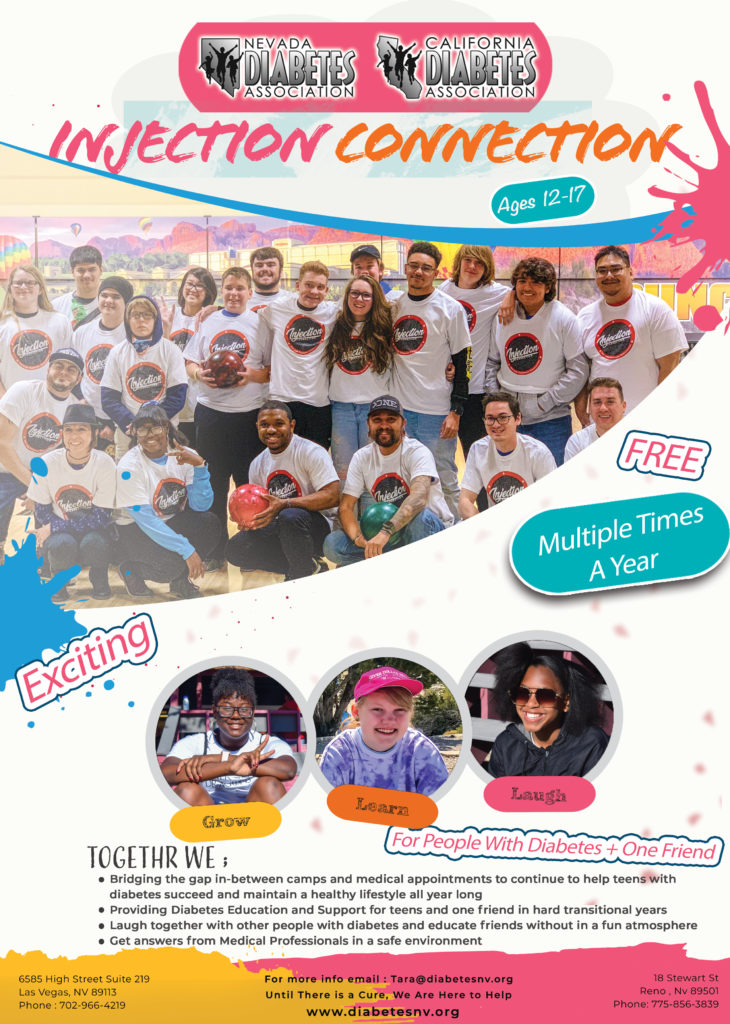 Injection Connections
Las Vegas and Northern Nevada Injection Connection event dates and times can be found on the calendar.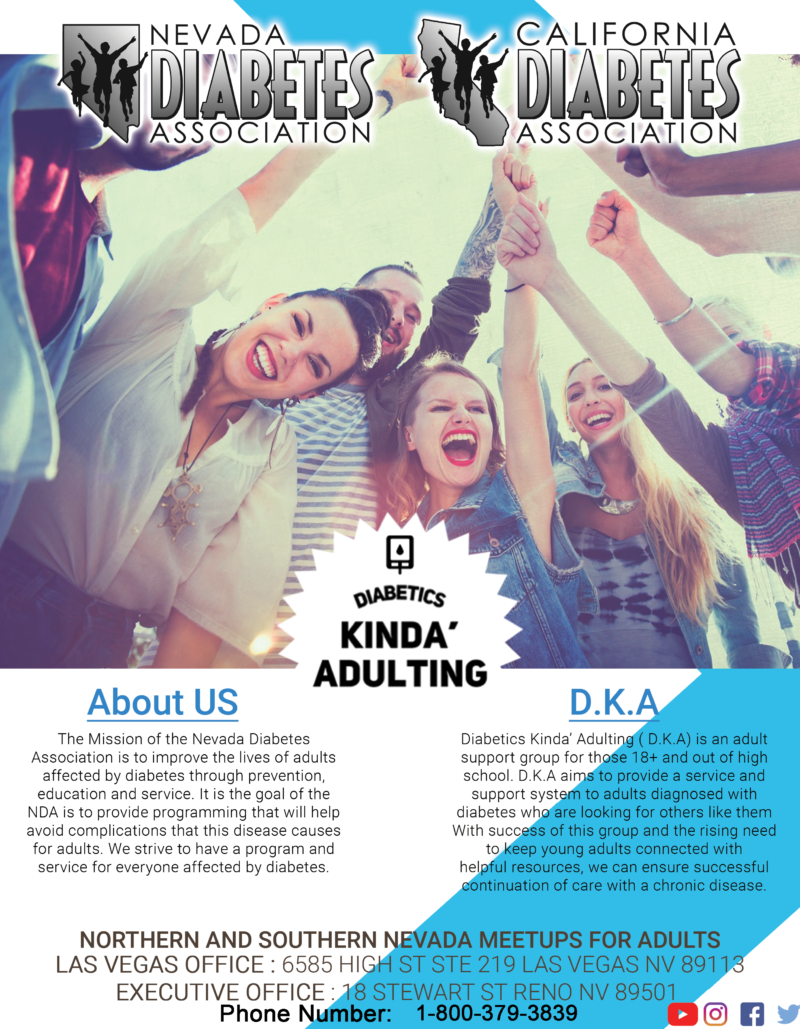 DKA- Diabetics Kinda Adulting

18+ and out of high school. Get together with other young adults living with diabetes. Camp fam and other support partners without T1D are always welcome! Events and Times are all located on calendar.
ADEMS Adult Diabetes Support Group Las Vegas
Meets the 2nd Tuesday of the month. West Charleston Library- 6301 West Charleston Blvd- Las Vegas, NV. Time 5pm.
ADEMS Provides valuable up to date information on the management and control of diabetes. When one is in the center of the community there is no need to look in from afar. ADEMS is where the in crowd with diabetes is on the second Tuesday of each month. If you ever had questions about diabetes and wish to know how others are managing their disease process or if you just desire new and improved techniques for the control of diabetes then we are here for you.
Diabetes Specific Social Networking
GLU National Online Support Community
Glu is an active and diverse type 1 diabetes online community designed to accelerate research and amplify the collective voice of those living with T1D. Register Now. The Goals of GLU are to nationally: Support-Find and connect with others touched by T1D. Empower- Get involved as a citizen scientist to help accelerate research. Educate- Learn from discussions, articles, research, and from each other.
Sign Up – https://myglu.org/